The Judo Black Belt Association (JBBA) of the International Freestyle Judo Alliance (IFJA) and AAU Judo was formed to provide fair, inexpensive and objective criteria for rank promotions for the supporters of "Judo, the way it ought to be" around the world.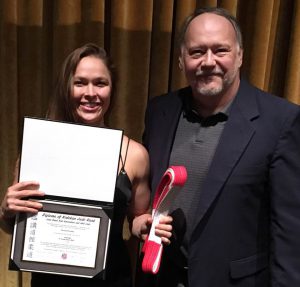 The JBBA's sandards for rank meet and exceed the standards of other national and international Judo/JiuJitsu organizations.
You cannot buy rank, registration, or validation in the JBBA.  The IFJA and its JBBA do not charge yearly dues, or sustaining life memberships.  You can only earn rank or validation through active participating yudanshakais.
The Judo Black Belt Association is a conservative organization.  If you want a high dan grade, go buy one.
The IFJA, its JBBA, and its participating yudanshakais do not discriminate in participation in Judo events from other organizations.  We encourage it.

The IFJA and the JBBA are united by the common goal of restoring Judo back to the great and popular combat sport that it once was.
The following is a partial list of JBBA Black Belts and their associated yudanshakais.
Hachidan (8th Dan)

John Saylor, 12/8/2018, Shin Gi Tai
Steve Scott, 12/8/2018, Welcome Mat
Shichidan (7th Dan)
Becky Scott, 3/3/2018, Welcome Mat
AnnMaria De Mars, 3/3/2018, Gompers Judo
Rokudan (6th Dan)
Fritz Goss, 5/10/2005
William Montgomery, 5/10/2009
Ed Carol, 6/6/2015, Ichi Ni San
Ronda Rousey, 3/3/2018, Gompers Judo
Kenneth Brink, 12/8/2018, Welcome Mat
Godan (5th Dan)
Shawn Watson, 7/31/2005
Sondra Harrelson, 12/7/2007, Welcome Mat
Kirk Quinones,  9/3/2009
Kelvin Knisely,  9/3/2009
William Bryan Potter, 9/3/2009
Christopher Heckadon, 6/10/2010
Mark Lozano, 3/23/2012, Welcome Mat
Vincente D'Ingianni, 4/19/2015, The Judokai
James Wall, 3/19/2016, Wall to Wall Martial Arts
Yodan (4th Dan)
Bill West, 8/1/2005
Joseph Roberts, 11/1/2005
Warren Frank, 11/1/2005
Robert Rittman, 9/2/2009
Christopher Heitmann, 5/17/2014
Sandan (3rd Dan)
James Schnewis, 7/10/1989
Alberto Cruz, 12/1/2005
Charles Jones, 1/31/2006
Derrick Darling, 5/22/2013, Welcome Mat
Michael Russell, 2/25/2010
Brian Hanson,  5/17/2014
Matt Neely, 12/3/2013
Larry Lein, 4/19/2008
Christopher Lein, 4/19/2008
Corinna West,  8/1/1998
Janet Trussell,  4/12/1983
Nidan (2nd Dan)
Thomas Alejos,  5/10/1993
Kenneth Cabean,  5/10/1983
Drew Hills, 9/3/2009
Michael, Thomas, 9/3/2009
Bret Holder, 9/3/2009
Ben Goehrung, 1/23/2012
Gene Smith, 12/5/2009
Jacob Pursley, 5/22/2013, Welcome Mat
John Zabel, 5/22/2013
Les Luithle,  5/10/1993
Charles Garcia,  5/1/1983
Adrian Garcia, 5/1/1983
William Quenelle, 12/7/2007
Michael Pennington,  5/17/2014
Christopher McClish, 5/17/2014
Kayoko Abernathy 5/17/2014
Andre Coleman, 12/5/2014
Anthony Enriquez, 11/14/2015, Phoenix College Judo & Jujitsu
Toan Dinh, 12/4/2015
Shodan (1st Dan)
Eric Millsap,  3/29/2007
Chuck Willen, 5/1/1985
Sacha Taghizade, 5/7/1998
Chance Powers,  2/1/2007
Kevin Cox, 5/7/1994
John Parker, 5/7/1994
Thomas Frank, 11/4/1999
Ronald Bibbs, 5/12/1983
Steve Potter, 8/3/2009
Gary Idleburg, 5/11/1985
Jacob Phillips,  5/8/2009
Scott Brink, 12/19/2011, Welcome Mat
Lori Knisley, 12/7/1995
John Begley, 10/14/2007
Eric Vann, 1/1/2009
TJ Barnet, 5/14/2016
Christopher Garlick, 5/6/2012
Pavel Nockel, 6/4/2012
William Cook,  9/9/2013
Steve Soden, 5/1/2010
Robert Heckaden, 12/1/2009
James Rippee,  5/7/2014
Craig Johnson, 1/1/2010
Josh Sisson, 12/4/2015, Welcome Mat
Jarrod Fobes,  1/1/2008, Welcome Mat
Kelly Hunter, 1/1/2008
Hillary Elliot, 12/7/2007
Sharon Vandenberg, 12/7/2007
Kevin Green,  8/1/2007
Ed Rogers, 1/1/2008
Rob Davis, 9/1/2007
Jerrod Brasseaux, 10/21/2015, The Judokai
Kirt Brasseaux, 5/21/2016, The Judokai
William Schrimsher, 4/5/2016
Please help support these organizations by participating in their events, joining their clubs, clicking on their web links, and "Liking" their Facebook and social media sites.